Manchester Global MBA Alumni Panel

Join us for our upcoming Global MBA alumni panel, hosted by Ms. Sherry Fu, Director of The University of Manchester China Centre. Sherry will be joined by alumni and current student of the Manchester Global part-time MBA.


The transformation brought by Manchester Global MBA learning experience may be the cutting-edge knowledge of new management concept learned in the classroom which accelerates your career promotion; it may also be the identification of Manchester's innovative genes to find like-minded partners so as to work together to develop a new career path.

On the afternoon of Saturday, 20th March, join Ms. Sherry Fu and a panel of Global MBA alumni and current student for an insightful panel event. Register the event and first-hand from our panel about their reasons for choosing the Manchester programme, their experiences and how combining their career with part-time MBA study helped leverage their personal and professional development.

If you prepare to embark on the next step of your MBA study, don't miss this opportunity to meet and discuss with our senior alumni, current student and our Marketing and Recruitment team!


If your full application could be submitted by March 2021, you will get the priority to be awarded a tuition fee reduction. Join Manchester Global MBA July 2021!
The Manchester Global part-time MBA at a glance:
Complete the MBA in 2 years while you continue to work full-time

Global immersion: 90 nationalities studying globally at 6 global locations

Part-time blended learning: interactive online learning + workshops


Flexible learning: Advance your global business career whilst continuing to work full-time


Global Reputation


AMBS launched MBA in 1965, ranked 4th in the UK, 10th in Europe and 30th globally by Financial Times 2021, 19th in the world by Bloomberg Business Week 2015. AMBS is one of a selective group of institutions globally that has earned triple accreditation from all three major MBA bodies: AACSB, AMBA and EQUIS.

Speaker: Sherry Fu,
Regional Director
The University of Manchester China Centre


Sherry is the founding director of Alliance Manchester Business School's China Centre (established in 2008 in Shanghai) which was renamed to the University of Manchester China Centre in September 2016. She manages China business development, alumni relations and strategic partnerships in the region, leading China team developed the Centre to the 2nd largest overseas Centre and building an outstanding brand image and reputation for AMBS and UoM which has been recognized in several China's top national awards.

Sherry was appointed as an envoy to the City of Manchester in 2013 at the house of Lords and awarded "Pilot of Chinese business education' in 2016 by China State Council information office.
Speaker: Sophie Xu,
Director, Fusion Consulting
Alliance Manchester Business School, Global MBA 2017 intake


As the Director of Fusion Consulting, Sophie is mainly responsible for the digital transformation application service of ERP technology. She has more than 13 years of global IT consulting experience, with rich experience in project management, change management, business process reengineering and SAP digital solutions. Sophie has been deeply engaged in the pharmaceutical, life-science and healthcare industries for many years.
Before joining Fusion, Sophie was engaged in relevant consulting work in IBM, Infosys and etc., successfully launched a number of domestic and overseas IT projects in various industries (life science, FMCG and manufacturing).

Speaker: Vivi Li,
Market Development Manager, TT Electronics
Alliance Manchester Business School, Global MBA 2020 intake


Vivi Li is the Market Development Manager of TT Electronics, dedicating to new logo customer development. With over 10 years in low volume, high mix electronics contract manufacturing industry specializing for the aerospace, medical, industrial and rail industries, Vivi has rich experience in program management, account management and new business development. Vivi is a powerful force in the workplace and uses her positive attitude and sales skill to lead the team to perform and succeed.


Prior to joining TT, Vivi had 4 years working experience as Global Account Manager of ZF , responsible for General Motors. Vivi is 2020 Jan Intake student of Global MBA in University of Manchester.

Date:
Saturday, 20th March, 2021


Agenda:

14:00 - Registration and Networking
14:30 - Welcome speech by Centre Director Sherry Fu
14:45 - Alumni and Student Panel
15:30 - Global MBA Programme Introduction


Venue:
Suzhou CBD

Detailed address will be sent upon successful registration

RSVP: mba@uom.ac.cn | 86-21-60701318
or visit http://www.uom.ac.cn/events/



About Manchester Global Part-time MBA Programme:
We are part of only 1%
of business
schools worldwide to receive three international accreditations: AMBA,
AACSB and EQUIS
We are ranked 4th in the UK , 10th in Europe and 30th Globally by Financial Times 2021

We are ranked 2nd in the UK for research power, and 4th for depth and breadth of research (REF 2014)
We are ranked 6th of the Best 2 year International MBAs(outside the US) by Forbes 2015
According to FT, MBA students can expect a 108% salary increase three years after graduation
Bloomberg Business Week ranked AMBS at 19th in the world and 9th in the alumni survey.
60,000 executive students from over 176 countries plus renowned international academics.
Global centres: Manchester, Shanghai, Singapore, Dubai, Brazil, and Hong Kong.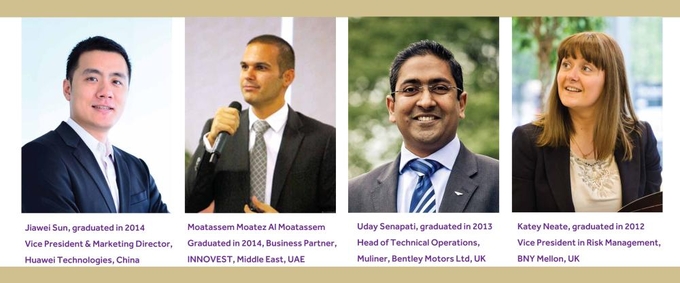 Admission Team | China Centre

The University of Manchester | Suite2901, L'avenue | 99 Xian'Xia Road, Chang'Ning Dist | Shanghai 200051
The University of Manchester China Centre Programmes: Global MBA | Kelley-Manchester Global MBA | Online Master Courses