Manchester Global MBA Industrial Insight

Digital Transformation and the 3-End Architecture of Eco-organization

The world has entered the VUCA (volatility, uncertainty, complexity and ambiguity) era. In such a business environment, how could our enterprises effectively create and capture business values?

How to balance division of work and coordinate diverse activities is the oldest and most essential issue of organizational management. On the evening of 24th Nov., The University of Manchester China Centre invited Professor Ping Li, Li Dak Sum Chair Professor of International Business at the University of Nottingham at Ningbo, to deliver a speech about digital transformation and ecological organisation at VUCA era, who believes that believes that digitalization requires a new organizational form, i.e., the distributive 3-end architecture (nimble front-end project team; integrative central-end platform, and long-term back-end headquarters) can solve the problem of balancing the division of labor for specialization and the coordination for integration. Meanwhile, our alumni from The University of Manchester, Dr. Weixu Ding, Mr. Allen Mao and Ms.Tracy Liu will participate in the discussion on sub-topics about empowerment, design and digitalization.

During the event, Professor Li will bring his original theoretical perspective built upon the case studies of the most advanced firms in China with deep insights into how to operate under the VUCA conditions.The University of Manchester China Centre course counselling team will further introduce about Manchester Global MBA programme and application process.
Do not miss this ideal opportunity to learn about advanced theory, and communicate with our alumni. Register Now!

Jon us to find out more about how our part-time MBA options will equip you with lifelong, practical skills that facilitates you reaching new heights in your career and transforming your life. Join us in January 2021 intake of Manchester Global MBA.



Global Reputation
AMBS launched MBA in 1965, ranked 4th in the UK, 10th in Europe and 36th worldwide by Financial Times 2018, 19th in the world by Bloomberg Business Week 2015. AMBS is one of a selective group of institutions globally that has earned triple accreditation from all three major MBA bodies: AACSB, AMBA and EQUIS.

About Speakers:
Professor, Ping Li, Li Dak Sum Chair Professor of International Business at the University of Nottingham at Ningbo
Li Dak Sum Chair Professor of International Business at the University of Nottingham at Ningbo, China, and also Professor of Chinese Business Studies at Copenhagen Business School, Denmark. He used to be Professor of Management at California State University, and also Research Director for the Greater China Region of US-based Center for Creative Leadership (CCL). His primary research focus is on building the geocentric (West-meeting-East) theories from the cultural and historical perspectives, especially applying the Chinese philosophy of wisdom to the development of holistic, dynamic and duality theories. He has been widely recognized as one of the global thought leaders in two fastest emerging research streams: (1) multinational firms from the emerging economies, and (2) indigenous research on the Chinese management.
Dr. Weixu Ding, Doctor of Philosophy, Editorial Board of Academic Journal, Research Fellow, Alumnus from UoM

Dr. Weixu DING is an academic researcher in knowledge management, Organizational studies, and Business Innovation. He got his master's degree from the University of Manchester, and a Ph.D. in Technology management by Ritsumeikan Univerity of Japan. During 2018-2019, he conducted visiting research at the U of California, Berkeley. He is now the editor of the Academic journal, Kingdee Researcher & Joint Postdoc at Tongji University, and the founder of the Seshat.AI project.

Mr. Allen Mao, Entrepreneur, Visiting Professor, Alumnus from UoM

Mr. Mao Jianhua is the founder of Shanghai Key-Leading Consulting Company and a visiting professor at the School of Economics and Management of Shanghai Institute of Technology. He got an MBA degree at the Manchester Business School, which ranked third in the UK and 30 in the world. He has the original thinking advocated by the Manchester Business School, mastered business research methods, and published articles in various professional journals. Mr. Mao Jianhua focuses on the research of design thinking for several years, expanding the application of design thinking from innovation, customer experience to management, leadership, change, strategy, talent development, organizational development and so on. He helps organizations to solve the challenges faced in VUCA environment by design thinking.
Ms. Tracy Liu, Expert in Digital Innovation, Alumni from UoM

Ms. Tracy Liu holds an MBA from Alliance Manchester Business School, and is now the senior manager of digital innovation in a world-renowned pharmaceutical company. Ms. Tracy has accumulated rich digital innovation experience in IT, healthcare, finance and other industries. She has served as a judge for well-known business incubators. Her cross-industrial and diversified experience has enabled Ms. Tracy to have broad vision, efficient communication and organization ability, which helps her continuously expand and improve her design thinking and project driving force
Event Details

18:30 - 20:30, Tuesday, 24th November, 2020

18:30 GMBA Course Introduction & Alumni Sharing
19:30 Industrial Insight by Prof. Ping Li
20:15 Sub-topics Discussion
20:30 Online Q&A
Contact us

About Manchester Global Part-time MBA Programme:
We are part of only 1% of business schools worldwide to receive three international accreditations: AMBA,
AACSB and EQUIS
We are ranked 4th in the UK, 10th in Europe and 36th Globally by Financial Times 2018.

We are ranked 2nd in the UK for research power, and 4th for depth and breadth of research (REF 2014).
We are ranked 6th of the Best 2 year International MBAs(outside the US) by Forbes 2017.
According to FT, MBA students can expect a 108% salary increase three years after graduation.
CEO World Best Business Schools 2019 ranked AMBS at 3rd in the UK and 11th globally.
60,000 executive students from over 176 countries plus renowned international academics.
Global centres: Manchester, Shanghai, Singapore, Dubai, Brazil, and Hong Kong.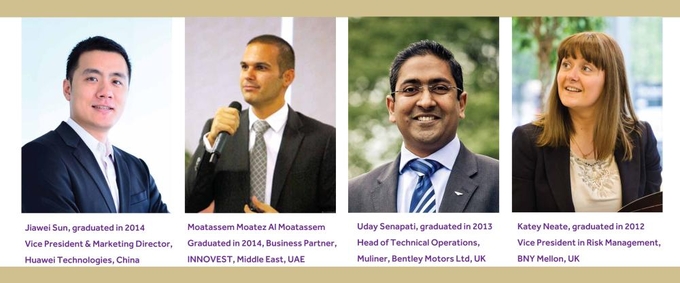 Admission Team | China Centre

The University of Manchester | Suite2901, L'avenue | 99 Xian'Xia Road, Chang'Ning Dist | Shanghai 200051

The University of Manchester China Centre Programmes: Global MBA | Kelley-Manchester Global MBA | Online Master Courses